Pharmacy Technician Program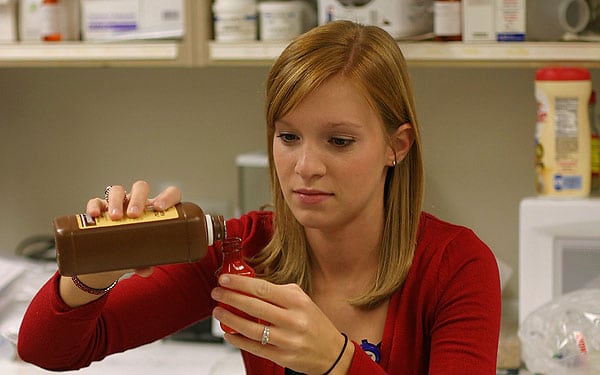 Call 877-770-4CBD now or complete online application to get more information on this highly desired and in-demand program!
CBD College is Nationally Accredited by ACCET
This program provides students with the basic knowledge and skills that will qualify them to work as entry-level Pharmacy Technicians in retail and hospitals facilities. Upon successful completion of training, our graduates will be able to identify and understand drug nomenclature, dosage forms, routes of administration, and abbreviations used in pharmacy; identify the most common medications by their trade and generic names; perform conversions and/or calculations of weights and measures; understand Federal and California pharmacy laws; understand basic pharmacology; perform pharmacy operations of the Drug Distribution system, and be able to perform sterile product preparation.
At the successful completion of the program, students will be awarded a diploma, will be eligible to apply for licensure as a Pharmacy Technician in the State of California and will be qualified for the PTCB (Pharmacy Technician Certified Board) exam.
A graduate of the Pharmacy Technician Program may be employed as a Licensed and Certified entry-level pharmacy technician upon successful completion of the program, passing the national certification exam, and obtaining license. He/She may serve in a retail store pharmacy or the pharmacy of a hospital. Graduates of this program will work directly under the supervision of a registered pharmacist.
Learn More about our Pharmacy Technician Program
General duties include transcribing physician's orders, and hospital charts, drug product selection, preparing medications for dispensing, labeling, and refill authorization, computer data entry for patient profile maintenance, and procedures for acquiring all necessary information. They may also assist in quality management and security measures.
Why Become a Pharmacy Technician
Employment of pharmacy technicians is expected to increase by 32 percent from 2006 to 2016, which is much faster than average for all occupations. Increasing number of middle-age and elderly people – who use more prescription drugs than younger people – will spur demand for technicians throughout the projection period.
Scientific advances spurs new demand for prescriptions and pharmacy technicians.
Job Security – Excellent Pay
Work in hospitals, retail pharmacies, grocery stores, department stores, or mass retailers.
Why choose the Pharmacy Technician program at CBD?
Preparation for PTCB (National Exam)
Externships in different pharmacy settings
State-of-the-art skills lab
Computer learning center
Dedicated faculty and staff
Hands-on training and personal feel
Clinical experience in a variety of healthcare facilities
On-site placement department will assist you to find a job
Federal Financial Aid Available to those who qualify
Where Can a Pharmacy Technician Work?
Retail Pharmacies
Hospitals
Long Term Care Pharmacies
Home Infusion Pharmacies
Grocery Stores
Pharmaceutical Companies
Herb Stores
Program Content
General Concepts of Pharmacy
Federal & State Pharmacy Laws
Pharmaceutical Procedures
Pharmacy Calculation
Pharmacology of Body Systems
Psychopharmacology
Pharmacy Stock and Billing
Cancer and Oncology Agents
Repacking and Compounding
Hospital Pharmacy and Sterile Products
Anti-Inflammatory and Antihistamine Drugs
CPR/First Aid
Career Development
Externship