Program Spotlight: Occupational Therapy Assistant Program
Each month the CBD College highlights a student or program who is doing great things around campus. This month, in celebration of their ACOTE Accreditation, our newsletter is shining the spotlight on our tremendous Occupational Therapy Assistant Program. We had the chance to sit with 4 amazing students; Dominique Pinto, Natasha George, Carissa Lancaster and Tami Shahoumian to chat about what they loved about their OTA Program and their instructional team. Their thoughts and comments proved to be a powerful and passionate insight as to what it is truly like to be a CBD College OTA Student.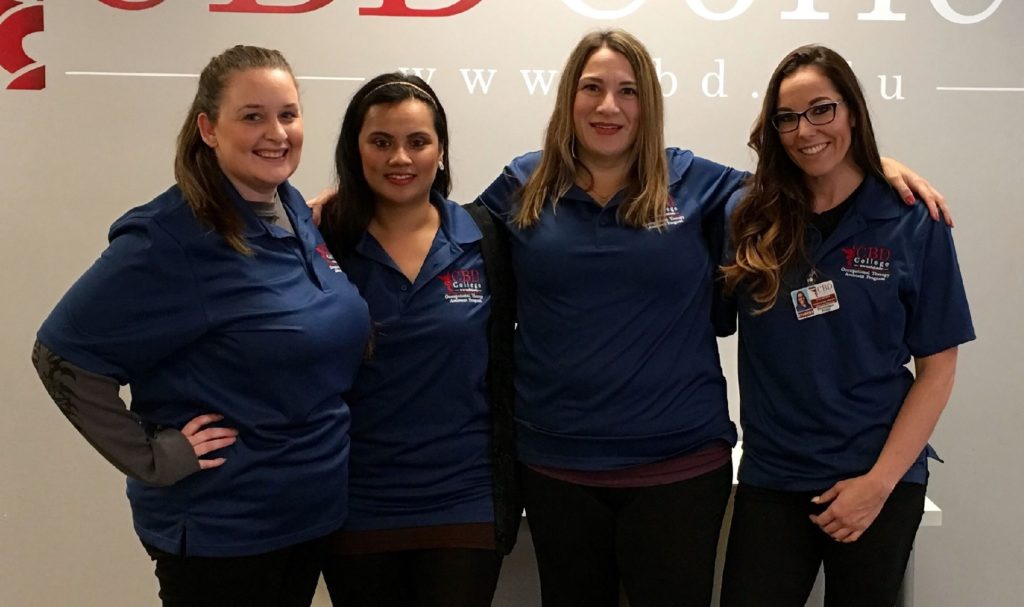 Occupational Therapy Assistants are a dynamic and collaborative part of the healthcare team that works vigorously with patients to develop, recover and improve the skills of daily living after disease or injury. OTA's have the ability to work in various environments including hospitals, skilled nursing facilities, and home health services.
Led by their dedicated director, Dr. Mary Kay Wolfe and her troupe of instructors; our CBD College OTA students are geared up and ready to make a difference. When asked about their plans, all four ladies shared their wishes to work in areas ranging from pediatrics and neurology to mental health and geriatrics. Our students boasted about their instructors and their knowledge base and appreciation of the open-door policy their instructors shared.
"It is definitely nice to be able to speak to your program director whenever you need to" shared student Carissa Lancaster. "That is almost unheard of in other universities" she added.
When asked about their learning environment and what they most admired about their program, all 4 ladies quickly agreed that it is the relationships they have formed and the family atmosphere they have created amongst their classmates that is most appreciated.  This "all for one and one for all" attitude allows students to push and help each other through difficult situations. Furthermore, students also shared that they have loved all of the hands on training they have received from their instructors. This hands-on training has helped our students solidify their goals and aspirations in their current career path. All 4 ladies are very much looking forward to their first round of clinical rotations and see it as an exciting learning experience.
CBD College would like to take this opportunity to thank not only our great OTA faculty, but also our amazing OTA students who helped make this accreditation possible. Your hard work and dedication are evident in every class you take and in every skill you practice. We have no doubt that you will make us proud as CBD College OTA grads!
As our student Dominique Pinto says, "Go OTA!"