Program Spotlight: Pharmacy Technician
Why Should You Become a Pharmacy Technician?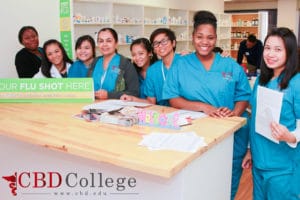 Pharmacy Technicians are in demand! As the population ages and older people require more prescription medications, the need for qualified Pharmacy Technicians has steadily risen to meet the demand. This means more job opportunities for you!
Above-Average Job Growth: Employment of Pharmacy Technicians is projected to grow

9%

 from 2014 to 2024.*
Excellent Pay: As of May 2015 the annual mean wage for Pharmacy Technicians in California was

$40,170

.**
Ever wonder what it takes to be a Pharmacy Technician?
Pharmacy technicians help pharmacists dispense prescription medication to customers or health professionals. They work in retail pharmacies and hospitals. Pharmacy technicians can compound or mix medications and call physicians for prescription refill authorizations. Technicians also may need to operate automated dispensing equipment when filling prescription orders.
Pharmacy technicians working in hospitals and other medical facilities prepare a greater variety of medications, such as intravenous medications. They may make rounds in the hospital, giving medications to patients.
Pharmacy technicians help pharmacists dispense prescription medication to customers or health professionals and typically do the following:
Collect information needed to fill a prescription from customers or health professionals
Measure amounts of medication for prescriptions
Package and label prescriptions
Organize inventory and alert pharmacists to any shortages of medications or supplies
Accept payment for prescriptions and process insurance claims
Enter customer or patient information, including any prescriptions taken, into a computer system
Answer phone calls from customers
Arrange for customers to speak with pharmacists if customers have questions about medications or health matters
As you can see this is a very extensive list, but it shows the wide variety of training someone may receive as a Pharmacy Technician student. The role of a Pharmacy Tech means that one will be working alongside and under direct supervision of pharmacists
Where Can I Work?
Retail Pharmacies

Chain drugstores (CVS, Walgreen, Rite-Aid)
Independent drugstores
Mass-Merchandisers (Wal-Mart, Target, Costco, etc.)

Hospitals
Home health care pharmacies
Long term care pharmacies
Clinic pharmacies
Mail-order prescription pharmacies
Pharmaceutical companies
Why Choose the Pharmacy Technician Program at CBD College?
9 Month/36 Week Program
Nationally Accredited by ABHES
Day and Evening Classes
Clinical experience in a variety of pharmacy settings
State-of-the-art pharmacy lab
Classes forming every month
Computer learning center
Dedicated faculty and staff
Hands-on training and personal feel
On-site Placement Department will assist you to find a job
Federal Financial Aid Available to those who qualify
Call 213-472-2200 or fill out the form at right to find out how you can become a Pharmacy Technician in as little as 9 months!