Roundup One Year Anniversary: A Look Back
November 1st, 2015 marked the first issue of the CBD Roundup…
After a short hiatus, the Student Affairs department is proud to deliver the RoundUp's One Year Jubilee edition to current and prospective students, faculty, and staff. From the very first Annual Halloween Spooktacular success last October to the CBD Art Expo showcase in May of this past year, the college has had its share of inspiring stories.
The Roundup is CBD College's insider is here to:
spotlight the different programs offered by CBD

recapture special event highlights

feature its own students and alumni.
This month we celebrate its one year anniversary.
---

Working with The Beating Hearts Foundation

In March, guest speaker and founder of The Beating Hearts Foundation, Eileen Garrido, visited the campus to talk to students about her charitable organization. Garrido battled with Tetralogy of Fallot, a life-threatening condition, for years. Incidentally, she began raising funds directly for Children's Hospital Los Angeles and the families afflicted by lack of insurance or benefits. In the similar spirit of furthering education and giving back to the community, CBD hosted food sales with all proceeds being donated to The Beating Hearts Foundation.
---
Hosting a Free Medical Clinic
The Medical Assistant, Diagnostic Medical Sonography, and Pharmacy Technician students also hosted a Free Medical Clinic last November, offering many beneficial examinations at no charge to the public. These exams included blood pressure and cholesterol checks (MA) and stroke scans (DMS). Additionally, Rite- Aid Pharmacy sponsored complimentary flu vaccines and other vaccinations administered by the PhT program. While many of our very own CBD staff and faculty took advantage of this opportunity, it was ultimately an excellent way for CBD students to touch the community directly with a variety of medical services. The upcoming Free Clinic is bound to be an even bigger accomplishment.
---
Honoring Our Accredited Programs
Speaking of accomplishments- in January, CBD announced full accreditation for its three degree- granting programs. Diagnostic Medical Sonography received its official CAAHEP accreditation, the only school in the City of Los Angeles to hold that honor. In addition, Physical Therapist Assistant has been fully accredited by CAPTE, and Occupational Therapy Assistant is the only OTA program in all of LA to be fully accredited by ACOTE. These extraordinary achievements mean our brilliant and determined students can sit for their licensing exams at the end of their programs. Congratulations to all!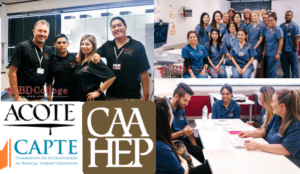 ---
Commemorating the Newsletter's One Year Anniversary
The RoundUp is here to be your student resource. Learning about the different departments is a great way to get involved outside of the classrooms and be a part of the living, breathing organism that is CBD College. It is a place to know how you can participate in our community outreach programs including blood drives, toy drives, food drives, and other civic involvement- especially in conjunction with the medical field. It's a place to see yourself and your peers. It's a place to see what CBD has to offer you.
New issues of the CBD College RoundUp will be released monthly and available in the student lounge, career services, and at the front desk. It will also accessible electronically through CBD e-mail subscribers and on the CBD website.
To learn more about CBD College, or to schedule an appointment, call 213-472-2200 or fill out the form at right!