BECOME AN OCCUPATIONAL THERAPY ASSISTANT AT CBD COLLEGE!
CBD's Occupational Therapy Assistant Program Start Date is Monday, February 13th, 2017
CBD College is a leading career college in Los Angeles, offering a wide range of medical programs designed to train you efficiently towards a rewarding career. With that, we're proud to announce the Occupational Therapy Assistant program was granted full Accreditation from ACOTE last year! OTA Program Director, Dr. Mary Kay Wolfe, and her team showcased their dynamic program and wowed the Accreditation committee. CBD College is now proud to have the only ACOTE Accredited OTA program in the Los Angeles area! In addition, students can earn an Associate's Degree within our Occupational Therapy Assistant Program.
Based on labor statistics, the demand for OTA's is expected to grow 43% from 2012 to 2022.  According to the Bureau of Labor Statistics (BLS), the median annual wage for an occupational therapy assistant in southern California is $71,990 – between $34 and $35 per hour.
So you know that you work with well others, and you want to help patients, but what does an OTA do? You will be responsible for helping a patient develop, recover, and improve the skills that are necessary in daily living, in addition to those skills that the patient needs to use in her work environment.
The Role
Occupational therapy assistants work alongside occupational therapists as they help patients recover from injuries or illness to reclaim control over their lives. Occupational Therapists and their Assistants enable patients to re-learn necessary skills for daily life and work. Occupational Therapy Assistants are a dynamic and collaborative part of the healthcare team that works vigorously with patients to develop, recover and improve the skills of daily living after disease or injury.
The Responsibilities
Occupational therapy assistants help with patient recovery, rehabilitation exercises, instructing patients, and recording progress for the occupational therapist. Additionally, assistants may be responsible for some of the therapist's administrative tasks. Assistants develop deep personal connections with the patients they assist and interpersonal skills are a big bonus.
What Will I Do?
What you do depends on where you work. Every healthcare institution will vary in regards to the types of tasks they ask you to perform, but there are a few that stay the same:
 Helping patients perform therapeutic activities (including exercises)
 Administrative tasks
 Keeping records of a patient's progress
 Promoting and coordinating socialization with children who have developmental disabilities
 Instructing patients on how to use special equipment
 Providing assistance to an occupational therapist as needed
Most importantly, you help patients improve, develop, or recover the basic skills that are a part of daily living. This means aiding with:
 Computers
 Exercising
 Eating
 Cooking
 and more…
Ultimately, your job is to assist the occupational therapist that you work under.
OTA Work Environment
Your employer will generally inform you of the work schedule once you interview or once you are offered the position. You could work on a full or part-time basis; however, this will vary from job-to-job. It is the duty of the therapist and his or her assistant to accommodate the patient's schedule.  This is why some occupational therapy assistants are required to work during the evenings, as well as on weekends, depending on your employer.
The top five places that occupational therapy assistants work in include:
Hospitals
Home Healthcare Service Providers
Offices of Occupational Therapists
Nursing Home Facilities
Educational Service Providers
CBD Loves Our Occupational Therapy Assistants! 
"It is definitely nice to be able to speak to your program director whenever you need to" shared student Carissa Lancaster. "That is almost unheard of in other universities" she added.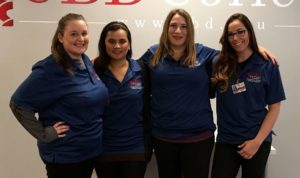 Pictured above are 4 amazing students we had the chance to sit with; Dominique Pinto, Natasha George, Carissa Lancaster and Tami Shahoumian
When asked about their learning environment and what they most admired about their program, all 4 ladies quickly agreed that it is the relationships they have formed and the family atmosphere they have created amongst their classmates that is most appreciated. This "all for one and one for all" attitude allows students to push and help each other through difficult situations. Furthermore, students also shared that they have loved all of the hands on training they have received from their instructors. This hands-on training has helped our students solidify their goals and aspirations in their current career path. All four ladies are very much looking forward to graduating this January.
Sign up for the Occupational Therapy Assistant Associate's Degree Program at CBD today. You could be one step closer towards beginning your career in this fast-growing industry! Your path to becoming an Occupational Therapy Assistant starts with just one phone call!
Call 213-427-2200 now or complete the online form on the right to get more information on how to become an OTA today!
Upon successful completion of the OTA Program, you will be able to sit for the national certification exam offered by the National Board for Certification in Occupational Therapy (NBCOT).
Upon completion of the exam, you will be a Certified Occupational Therapy Assistant (COTA). The California Board of Occupational Therapy through the Department of Consumer Affairs licenses OTA's to practice within the State of California.
The Occupational Therapy Assistant program at CBD College is accredited by the Accreditation Council for Occupational Therapy Education (ACOTE) of the American Occupational Therapy Association (AOTA) (ACOTE 4720 Montgomery Lane, Suite 200, Bethesda, MD 20814-3449; Phone: 301-652-AOTA / www.acoteonline.org).
Graduates of the Occupational Therapy Assistant program are eligible to take the national certification examination for the occupation therapy assistant administered by the National Board for Certification in Occupational Therapy (NBCOT). Note that a felony conviction may affect a graduate's ability to perform fieldwork, take the NBCOT certification examination, and attain state licensure.
The first cohort of OTA students will graduate in 2016. The first expected reporting date is summer, 2016.
NBCOT program data results: https://secure.nbcot.org/data/schoolstats.aspx