CBD College Wellness Wednesdays
Guided Meditations and Yoga Coming to Students during  CBD College Wellness Wednesdays
Beginning February 8th, students, faculty, and staff of CBD College are welcome to attend Wellness Wednesdays in the Student Resource Center to relax through guided mediation and yoga.  On the second Wednesday of every month from 2PM– 3PM, the Student Affairs team will be hosting a series of sequences aimed to combat stress and center the body and mind.  By practicing mindfulness, the school can develop and stronger connection personally and with each other.
Creating a Space for Grounding and Relaxation

 
A recent study has shown that 27% of medical and healthcare students worldwide suffer from depression.  Their symptoms can lead to exhaustion and detachment from their studies and surroundings.  They feel that their efforts do not make a difference, ultimately leading to burnout and unprofessional behavior in the classroom or work.  Of that same pool of students studied, 11% admitted to having suicidal thoughts.
Guided meditation is one of the most powerful ways to eliminate stress and also bring about positive personal awareness. Yoga is the practice of balancing your mind, body, and spirit.  Practicing these activities opens up the possibility to be still, non-judgmental, and de-clutter the mind.  The class will begin with a meditation sequence,and afterward students may stay for yoga designed to center and clear the mind.  The sequences involve gentle movements, so participants can drop in for any session and still expect to gain some major benefits:
Improve circulation and high blood pressure
Release stressors and depression from the body
Connect body, mind, and spirit
Practice body awareness and self-reflection
Feel strong and boost self- esteem
Get out of your head and breathe
Stay healthy and away from self-destructing behaviors
Enhance focus and creativity
Stimulate immune system
Befriend who you are already
All Are Welcome!
Anyone is welcome to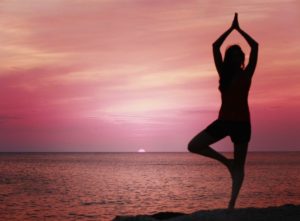 check out the new space.  Almost anyone can do these activities, regardless of age or fitness level.  Meditation and Yoga begs the learner to be present and allow permission to relax.  Come dressed in comfortable clothes, ready to move and stretch. Participants are also more than welcome to bring a mat or towel from home.  Students may look at he following schedule and choose accordingly which class they'd like to attend:
February 8: Linear Sequence- Meaningful Centering
March 8: Sequence for Beginners
April 12: Sequence for Stress and Headaches
May 10: Sequence to Energize
CBD College's Student Affairs team is here to guide students to resources for counseling and healthcare outside of independent, personal developments.  It is not something anyone should have to tackle alone.  They hope for a great school-wide turnout for their first Wellness Wednesday.