Women's History Month at CBD College
CBD Celebrates Women in Science and Activism for Women's History Month
Here at CBD College, innovation and bravery are exemplified in our instructors, students, faculty, and staff.  This March, we recognize the countless women who have influenced the healthcare field.   The following women are non-fictional characters we draw inspiration from every day.  In carrying the purpose of Women's History Month throughout the year, we remember their plight, how far we have come, and how far we have yet to go to reach equality.

Sojourner Truth
Born: 1797
Died: November 26, 1883
Origin: Swartekill, New York
Sojourner Truth was the self-given name, from 1843 onward, of Isabella Baumfree, an African-American abolitionist and women's rights activist. The state of New York, which had begun to negotiate the abolition of slavery in 1799, emancipated all slaves on July 4, 1827. Truth escaped from slavery with her infant daughter to freedom in 1826. Her other daughter and son stayed behind.
Shortly after her escape, Truth learned that her son Peter, then 5 years old, had been illegally sold to a man in Alabama. She took the issue to court and eventually secured Peter's return from the South. The case was one of the first in which a black woman successfully challenged a white man in a United States court.  She devoted her life to the abolitionist cause and helped to recruit black troops for the Union Army. Her best-known speech on racial inequalities, "Ain't I a Woman?" was delivered extemporaneously in 1851 at the Ohio Women's Rights Convention.
---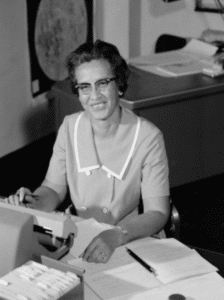 Katherine Johnson
Born: August 26, 1918
Origin: White Sulphur Springs, WV
In 1953, after years as a teacher and later as a stay-at-home mom, Katherine Johnson began working for the National Advisory Committee for Aeronautics, (NASA).  By 1953, the growing demands of early space research meant Langley Research Center's Guidance and Navigation Department had openings for African-American "computers" – and Katherine Johnson found the perfect place to put her extraordinary mathematical skills to work.
As a computer, she calculated the trajectory for Alan Shepard, the first American in space, as well as John Glenn's mission to orbit the earth. Her calculations proved as critical to the success of the Apollo Moon landing program and the start of the Space Shuttle program.  She has received an honorary doctorate to the 1967 NASA Lunar Orbiter Spacecraft and Operations team award for pioneering work in the field of navigation problems supporting preparation for the Apollo Program.  President Obama awarded her with the Presidential Medal of Freedom in November of 2015.
---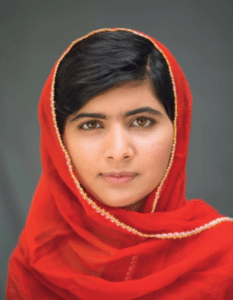 Malala Yousafzi
Born: July 12, 1997
Origin: Mingora, Pakistan
Malala Yousafzai is a Pakistani school pupil and leading spokesperson for women's right to education. In 2009, she began writing an anonymous blog for the BBC expressing her views on education and life under the threat of the Taliban taking over her valley.  After being featured in a New York Times documentary, her identity was revealed.  The Taliban vowed to kill her in retaliation for her high profile campaign for education and criticism of the Taliban.  A Taliban gunman shot her in the head at close range by a Taliban gunman but survived the gunshot wound to her head, neck, and shoulder.
With a  book and a petition under her name, calls on all countries to outlaw discrimination against girls and deliver education to every child.  She has become a spokesperson across the world for human rights, education and women's rights. She has received numerous peace awards and is the youngest person to receive the Nobel Peace Prize (2014) the same year as along with Kailash Satyarthi, an Indian children's rights activist.
---
Noor Inayat Khan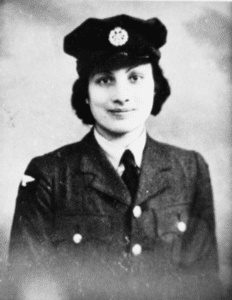 Born: January 2, 1914
Died: September 13, 1944
Origin: Saint Petersburg, Russia
Also known as "Nora Baker", "Madeleine", "Jeanne-Marie Rennier", she was of Indian and American origin.  She earned her education in Paris where she later worked writing children's' stories. Khan escaped to England after the fall of France and in November 1940 she joined the WAAF. In late 1942, the Special Operations Executive recruited her as a radio operator.  She became the first female radio operator to be sent from Britain into occupied France to aid the French Resistance.
A Frenchwoman betrayed Khan.  She had unwisely kept copies of all her secret signals.  The Germans were able to use her radio.  They tricked London into sending new agents straight into the hands of the waiting Gestapo. In Nov. 1943, she was sent to Pforzheim prison in Germany where she was kept in chains and in solitary confinement. Despite repeated torture, she ultimately refused to reveal any information.