CBD College Tours Alexandria House
CBD College Tours Alexandria House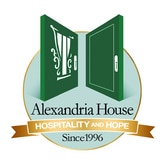 CBD Gives Back worked hand– in– hand with the CBD College Occupational Therapy Assistant Program.  Their goal: raise funds for their non-profit organization of choice, Alexandria House.  Each Wednesday in the month of April, OTA students took shifts in-between class running a school-wide bake sale.  They stocked their cart with treats, snacks, coffee and energy drinks.  The totals funds raised from the school by the end of the month totaled $500.
Program Director Mary Kay Wolfe, OTA Student Rep Jake Argyris, and the CBD College Student Affairs team visited Alexandria House May 3rd with their financial gift.  CBD College began this journey thinking it a chance to learn more about the transitional residence.  They quickly determined a mutual need for a long-lasting relationship.
But what is Alexandria House? 
In talking to Founding Director, Sister Judy Vaughan– who opened Alexandria House in 1996– she revealed the three things for which Alexandria House stands.  Firstly, they are a long-term shelter for women and their children.  Secondly, they are a neighborhood center with thrift sales, food pantries, and community workshops.  Lastly, they strive to educate and advocate for systemic change work, addressing issues that are keeping women in poverty.  Their goal remains being intentionally multicultural, feminist, and anti-racist to meet the needs of women who are economically poor.  They achieve all this without the help of federal government subsidies.
The State of Homelessness in Los Angeles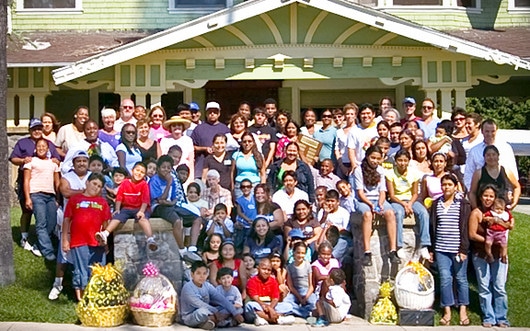 As of 2016 (click here for the most recent 2017 findings), there are more than 47,000 homeless in Los Angeles.  The number of homeless beds diminished from 14,000 to 9,000 in less than five years.  While Los Angeles continuously cuts funding to transitional housing and pushes for rapid rehousing, conditions have only gotten worse.  The issue, Alexandria House argues, is not just mental illness.  Homelessness stems from a lack of affordable housing, while more cuts ensue.  "Chronic homelessness" is, then, ingrained in our society.  This makes it harder, especially for battered and multi-racial women, to break the cycle.
Alexandria House: Fighting Back
For these reasons, Alexandria House aims to have a community-based atmosphere for its residents.  Judy lives there herself and raised her daughter in Alexandria House.  Because the government does not fund Alexandria House, they accept whoever they can.  However, residents must attain a job or be in school.  In fact, many past residents are CBD College alumni.  In the words of one mother, "[Alexandria House] is a positive…child-friendly environment."   Mothers, sisters and women who are battered, who have be subject to slave labor and trafficking, who have battled with depression while trying to support a family through economic turmoil, who have had what seems like every door slammed in their face,  have found a place to call home even if just for a short while.
On-site child care and child therapy provide the chance for mothers to work while at Alexandria House.  Support groups, financial literacy, and adult therapy gives the women the opportunity to heal their past.  This allows them to move on for their future.   More than half of the residents who have transitioned to permanent housing come back to aid current residents with cooking dinner, grocery shopping, gardening, and tutoring.  A true sense of community encompasses everything Alexandria House stands for.
As long as there is a need for it, Alexandria House intends to stay open.  Conveniently located in Mid-Wilshire, it takes only 15 minutes to walk there from CBD College.  Alexandria House depends on not just donations, but volunteers.  CBD College aspires to create a life-long partnership in this way.  Stay tuned for more information regarding Alexandria House and CBD Gives Back.