August Student Achievements!
Take a Look at Some of Our August Student Achievements!
CBD College remains forever impressed with the accomplishments of its students. Recently, Cohort 4 Occupational Therapy Assistant Student, Jake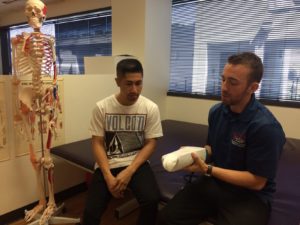 Argyris, won the "California Foundation for Occupational Therapy (CFOT) Traineeship Awards." Jake's achievement includes an invitation to a luncheon at the state conference in Sacramento in October to accept the award.
Jake's Time at CBD College
OTA Program Director, Dr. Mary Kay Wolfe, nominated Jake for the award. "It was definitely a pleasant surprise for me, getting the letter in the mail," commented Argyris. Featured in the CBD College Round Up's Student Spotlight in May, Jake's time at CBD College included becoming a Student Representative for his Cohort. He spent part of his journey discussing the profession with Members of Congress and influencer of the field. His passion for the work clearly demonstrates his qualifications for this esteemed honor.
The California Foundation for Occupational Therapy
CFOT awards four $700.00 traineeships, designed for Occupational Therapy Assistants during their clinical affiliations. The Occupational Therapy Assistant program at CBD College is accredited by the Accreditation Council for Occupational Therapy Education (ACOTE) of the American Occupational Therapy Association (AOTA). Graduates of the Occupational Therapy Assistant program are eligible to take the national certification examination for the OTA program.
CBD College Wants to Celebrate YOU!
Do you know someone who deserves a shout out? E-mail studentaffairs@cbd.edu , and let us know! We'd love to feature them here and in our newsletter, the CBD College Round Up.
For more information, or to schedule an appointment, visit www.cbd.edu, or call 213-427-2200.