Surgical Technologist Job Outlook
What is the Surgical Technologist Job Outlook?
Surgical Technologists are in demand! Advances in medical technology have made surgery safer, and more operations are being done to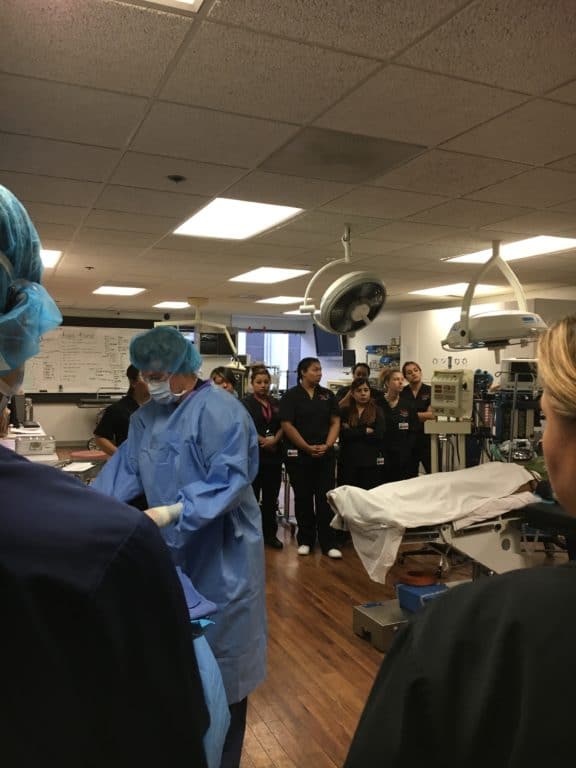 treat a variety of illnesses and injuries. This means more job opportunities for you!  Read on to see what the Surgical Technologist Job Outlook is like.
Above-Average Job Growth: Employment of Surgical Technologists is projected to grow 

15%

 from 2014 to 2024.*
Excellent Pay: As of May 2015 the annual mean wage for Surgical Technologists in California was 

$59,380

.**
Ever wonder what it takes to be a Surgical Technologist or what they do?
Also, as a Surgical Technologist, you will be responsible for many important tasks, including:
Preparing the operating room by setting up surgical instruments and equipment, before surgery.
Preparing patients for surgery by washing and disinfecting incision sites, positioning the patients on the operating table, covering them with sterile drapes, and taking them to and from the operating room.
Preparing sterile solutions and medications used in surgery and check that all surgical equipment is working properly. They help the surgical team put on sterile gowns and gloves.
Passing instruments and supplies to surgeons and first assistants, during an operation.
Much more!
Surgical Technologists are key members of a highly skilled and respected team that includes physicians, surgeons, nurses and other healthcare workers. 
Why Become a Surgical Technologist? 
Fastest growing field of employment
Job Security
Excellent Pay
Work with Surgeons, Anesthesiologists, Nurses and more!
Rewarding and fulfilling opportunities
Healthcare benefits and more.
Where Can I Work?
Hospitals and operating rooms
Ambulatory Surgery Centers
Physicians' offices
Outpatient care facilities
Laser centers
Why Choose the Surgical Technology Program at CBD College?
15 Month program 
Nationally Accredited by ABHES
Day and Evening Classes
Clinical experience in a variety of Surgical settings
State-of-the-art mock surgery center
Classes forming every month
Dedicated faculty and staff
Hands-on training and personal feel
On-site Placement Department will assist you to find a job
Federal Financial Aid Available to those who qualify
Call 213-472-2200 or fill out the form at right to find out how you can become a Surgical Technologist in as little as 15 months!