Faculty Spotlight: Cecilia Aguilar
Have you always been a Medical Assistant?
Yes and no. I've been an MA since 2006, but in the world of education, I've actually dabbled in different areas. I've been out in the field, I've done different specialties, and inside the educational world,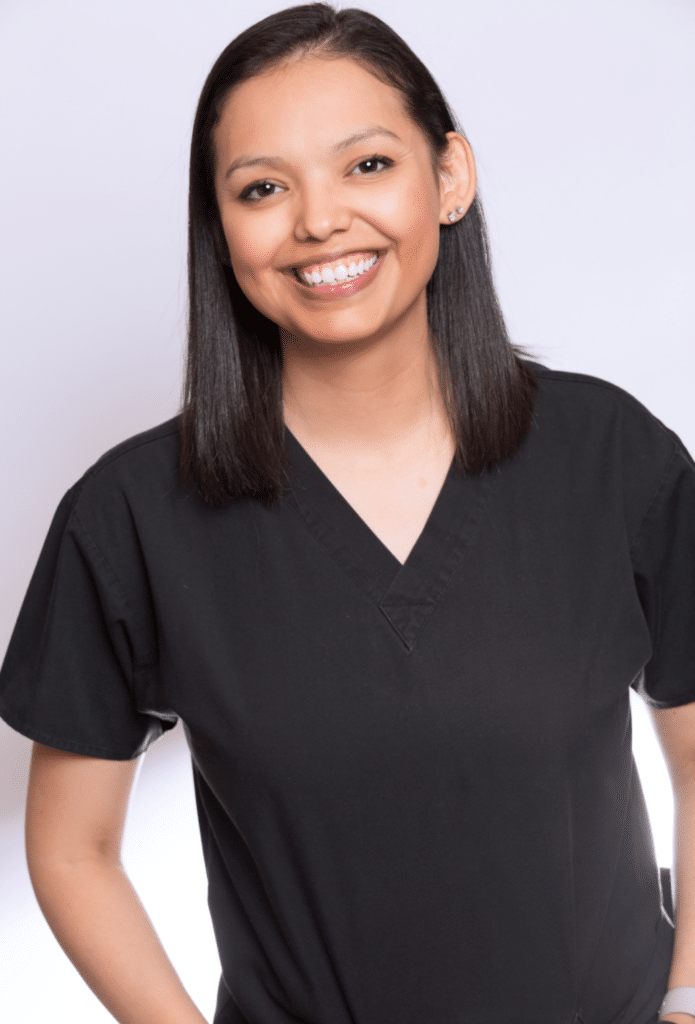 I've had different positions. I've been an MA director or instructor, but I've also worked in Career Services, Student Services, Finance – it's a good way to get a full scope view of everything that happens in a school like CBD College.
What led you to pursue instructing?
I actually started instructing. I love it because I love seeing that lightbulb moment. It's fascinating seeing someone who is scared or timid, and helping them get to that point where the lightbulb goes off and they go from being unsure to saying "I can actually do this." From there we start building more and more and more until they're ready to go. I think that progression and ability to see the journey from point A to point B is the most fulfilling. The program is really quick, so on day one the students are either drawing blood or interacting with the various parts of a syringe. That's because the more that you think about it the harder it is to get over that hump. So we get them on the horse as quickly as possible.
When did you start at CBD College?
I started in August of 2015. I started as an executive assistant, working with our Dean of Education and COO on accreditations and other projects. My love has always been education though, and I certainly missed it. So when the opportunity arose, I jumped at the chance to instruct again.
Who is your greatest inspiration or mentor?
Jenny Rodriguez. She and I are like two peas in a pod. We've worked so long together, so we're very much in sync. That's why you always see our students in each other's classroom, and you always see us in each other's classrooms. It's very continuous and both our classes feel comfortable with us and with each other. Many times you'll see them combined. They get more of a real-life kind of situation. Not all the veins are the same, not everyone is the same size or shape. Now they can learn to work with patients of different ideologies and backgrounds, and its easier when there are more people.
Dr. S. is also one of my greatest mentors. If she or Jenny say jump I will literally say "How high?" Those ladies have opened so many doors. I wouldn't be where I am if it wasn't for them.
How are you involved with Medical Assistant outside of CBD College?
I try to keep as current as possible, but I also have a lot of experience with pediatrics, especially because of my two little ones. Right now my current obsession is allergy testing because my little one has allergies to all sorts of different foods. So I catch up by reading periodicals, internet articles, webinars – that's really interesting to me. When I have a problem or I have specific symptoms, I want to know what it is so I can take care of it and fix it. I'll nerd out online until 3 in the morning. Ms. Rodriguez and I are both NRCMAs, so in order to keep our credentials, we have to complete a number of CEUs (Continuing Education) every year. We order literature and coursework to keep our certification current.
Do you have any advice for potential students interested in pursuing a career as a Medical Assistant or a healthcare career in general?
You should just go for it. It's funny how many times you won't start something new because you're scared you won't be able to handle the commitment of a very short program. However it is really fulfilling, and it goes by so fast that in the blink of an eye you go from starting to graduating and getting ready to go. Again, our door is always open and ready for you to ask questions or come to us with whatever you need. If you make the initial commitment, Ms. Rodriguez and I will take you the rest of the way. We just need you to be here and try your hardest. Take the leap and do it!