Alumni Spotlight: Alexa Moreno, Medical Assistant
Meet Alexa Moreno, Medical Assistant!
Tell us more about yourself, your background and what brought you to CBD College.
I'm a 20 year old Mexican American woman. I come from Inglewood, CA. I'd say the type of person that I am is determined yet changeable and indefinite about the kind of person I have yet to be. Initially, I was in art school since I have a creative personality. However, I dropped after the first semester because I realized I didn't like the idea of struggling or not having a stable career. So I turned to my back up option which was to enroll into a medical program and find something that was fast paced and concrete.
What was CBD like when you started?
I found CBD College on Instagram, so I decided to look into it. I ended up enrolling into the Medical Assistant program. Although I wanted to do Diagnostic Medical Sonography at first. I decided to wait because I wanted to first gain experience in the medical field before entering into the investment that ultrasound tech is. When I started CBD College, I believe it was the right moment for me to do so. I met students of all backgrounds and from different areas. I'm also glad I had the opportunity to have Mrs. Rodriguez as my instructor because she really does care about how well you do in th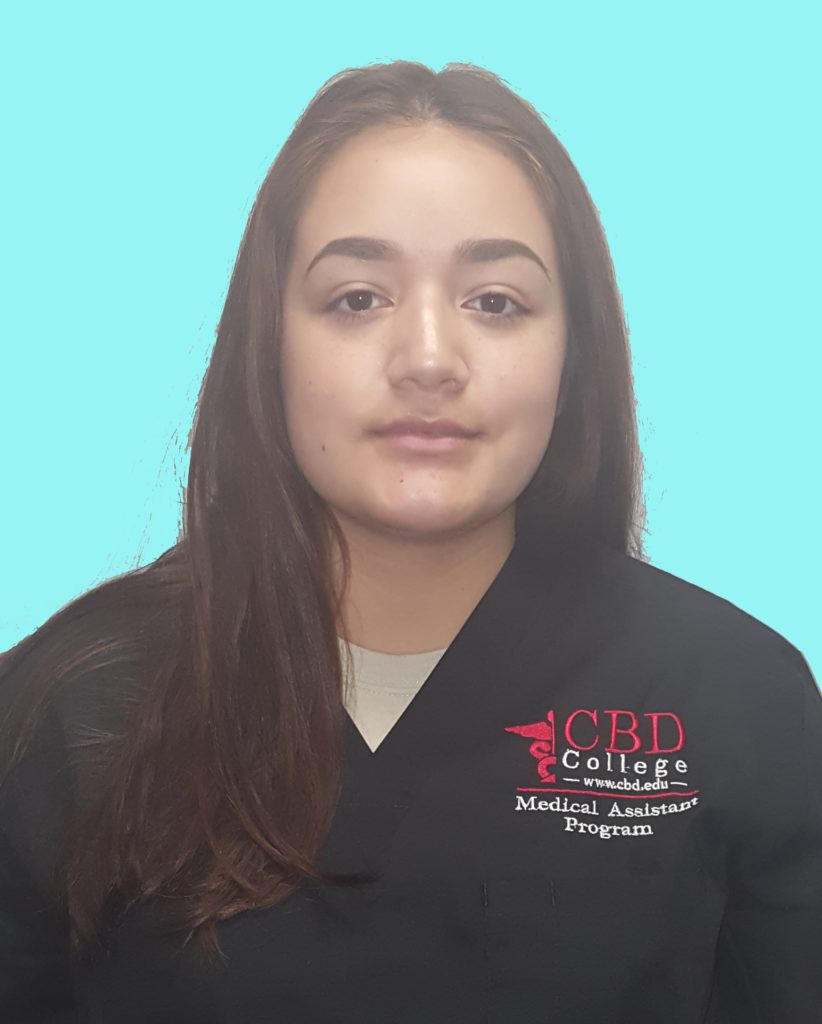 e class as well as you as a person. This being said, we gave her the title of being the "program mom."
Tell us about your current job.
It's an office in a medical building that specializes in Dermatology. So think along the lines of, "Dr. Pimple Popper." It sounds pretty cool, right?
What is your most memorable moment at CBD College?
At CBD College, one of the most memorable moments would have to be the awesome potluck parties we would throw at the end of the mod or for any occasion.
Who or what is your biggest inspiration/influence?
I'd say my biggest inspiration is my dad because he's somebody I admire when it comes to persevering and working hard no matter what kind of job you do.
What is your motto?
I guess a motto I use is "Be many-sided." Don't just be one thing all your life.
What do you enjoy doing while you are not at work?
Outside of work currently, my hobbies include binge watching Netflix because it's life, drawing (obvious), reading, spending time with my other half, and visiting hipster dessert places in LA.
To view our recent posts and get an inside look at the Medical Assistant Program at CBD College, head to our Facebook Page and Instagram .
Call

213-472-2200

or fill out the form on the right to find out how you can become a Medical Assistant in as little as 10 months! Our next start date is

May 15th, 2018

.