Occupational Therapy Month!
Given that April is National Occupational Therapy Month, this is an excellent opportunity to learn more about what Occupational Therapists (OT's) and Occupational Therapy Assistants (OTA's) actually do in their day to day lives and how Occupational Therapy can help you or your loved ones live life to their fullest.
A question commonly asked: What is Occupational Therapy?
Definition: Occupational Therapy is defined as a form of therapy for those recuperating from physical or mental illness that encourages rehabilitation through the performance of activities required in daily life.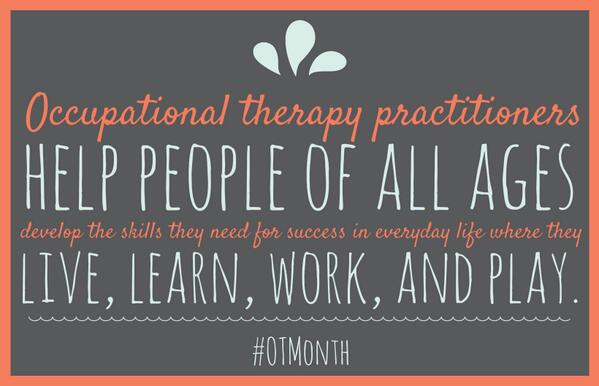 How is Occupational Therapy different from Physical Therapy? What's the difference?
Physical Therapists or Physical Therapy Assistants will treat a patient's actual injury or impairment, with a treatment plan focused on increasing mobility and lessening pain.
Occupational Therapists or Occupational Therapy Assistants will also treat a patient's injury or impairment but as compared with physical therapy, occupational therapy tends to focus more on evaluating and improving a patient's functional abilities and everyday life.
Occupational Therapists often do not directly treat a person's injury using techniques more commonly associated with physical therapy, such as manual therapy or acupuncture, but rather focus on assisting patients in optimizing their independence and their ability to accomplish their daily activities following an injury or impairment.
What are some OT/OTA responsibilities?
As an OT/OTA, you can expect to work directly with patients by providing therapy in exciting environments and will be responsible for many important tasks, including:
Helping patients develop, recover and improve the skills they need for daily living and working
Assisting patients in therapeutic activities and exercises
Helping children who have developmental disabilities and promoting coordination and socialization
Teaching patients how to use special equipment
Where can OT's/OTA's work?
Hospitals
Schools
Occupational Therapists' Offices
Skilled Nursing Care Facilities
Home healthcare services
Occupational Therapists and Occupational Therapy Assistants are in Demand!
Employment of occupational therapists is projected to grow

27 percent

from 2014 to 2024, much faster than the average for all occupations. Occupational therapy will continue to be an important part of treatment for people with various illnesses and disabilities, such as Alzheimer's disease, cerebral palsy, autism, or the loss of a limb.*
Employment of occupational therapy assistants is projected to grow

43 percent

from 2014 to 2024, much faster than the average for all occupations.**
CBD College OTA students help celebrate April OT Month!

4 OTA cohorts (90 students!) helped celebrate April's OT Month!
Our campus held a giant mixer for all programs to hear and learn more about the OT profession!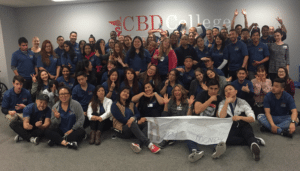 Are you interested in becoming an OTA in as little as 20 months?

Please fill out the form on the right of this page and an admissions advisor will contact you to help answer any questions and/or to set up a no obligation tour of our campus.
Contact us today by calling

(213) 427-2200

.