Student Spotlight: Jake Argyris
Meet Jake Argyris
As we wrap up our Occupational Therapy Month celebrations, we sit down with Jake Argyris, CBD College OTA Cohort 4 and Student Representative.  What does that mean exactly? Read on to find out!
How did you decide to pursue Occupational Therapy?  What does Occupational Therapy entail?
My journey to choosing Occupational Therapy started when I was in the Marine Corps.  I injured my shoulder and had to go to physical therapy for 6 months.  Physical Therapy caught my interest as they treated me.  I loved that the PTs were active and on their feet while treating patients.  I never liked desk jobs, so this was appealing to me.  A couple of yea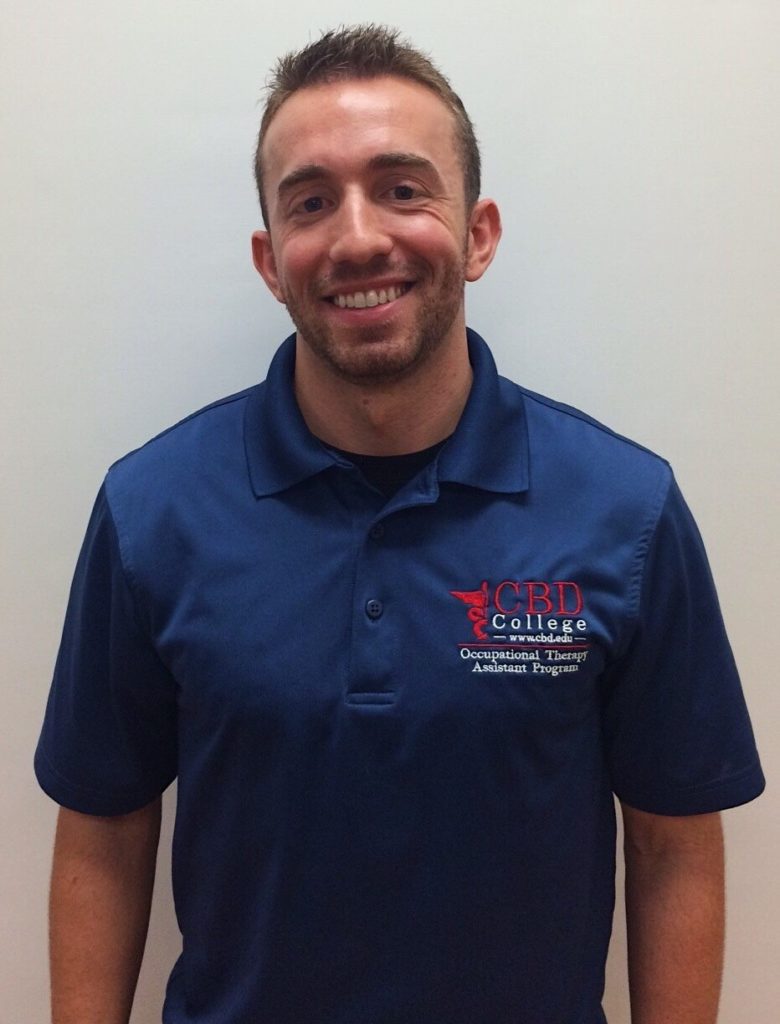 rs later, as I was getting ready to leave the military, I tried to figure out what I was going to do for work and school.  I ended up getting certified as a personal trainer through The National Academy of Sports Medicine.  Arizona State University accepted me into their Kinesiology program.
While in school, I shadowed an OT who worked with neuro patients.  I liked how OT gave more individual attention compared to juggling 3-4 clients on the PT side. I also appreciated how OT looked at clients as a whole, and not just their physical disabilities.  Being a COTA allowed for more freedom than a PTA.  COTAs also tend to have more patient interactions and less paperwork compared to OTRs.  I, therefore, decided to pursue Occupational Therapy.
Why did you choose CBD College?
CBD College and a COTA program in Phoenix, Arizona both accepted me at the same time.  At that junction in my life, I lived in Arizona.  However, CBD is closer to my family.  I chose CBD College since I needed familial support.
Who is your favorite instructor at CBD?
Mr. Paul Pettyjohn is my favorite instructor at CBD College.  He has a very diverse and interesting history pertaining to both the medical field and life.  With that, he has plenty of knowledge and philosophies that he is willing to share.  One of those philosophies is his common phrase, "Know Everything."  Mr. Pettyjohn seems to be one of the most authentic professors that I have had.  He applies OT philosophies to how he teaches his students by applying various teaching techniques to cater to each student's unique learning needs.
What is your most difficult class at CBD?
I would say that my Neuro Rehab class is the most difficult.  It is difficult because a lot of the material is abstract and conceptual.  The brain and the rest of the nervous system are complex and diverse from person to person, so much so that one treatment may work for one person, but not for another.  This requires the practitioner to be more adaptable compared to the concrete, sequential way of thinking that I am used to.
What would you tell anyone who is interested in becoming an Occupational Therapy Assistant?
I would tell them to make sure that they shadow both Physical Therapists and Occupational Therapists to find what best fits them before jumping into a program.  If you do not care for what you do, then that is unfair to yourself as well as the patient.
Where do you work outside of school?
I currently work as a private personal trainer outside of school.  I tend to see two to three clients at a time.  It's something that I really enjoy because like OT, I can work one on one with a client to help improve their life.
And you're a student representative?  What does that mean exactly?
So basically as Student Rep for OTA Cohort 4, I work with the OTAC (Occupational Therapy Association of California) Region 2 (greater Los Angeles area) director Celso Delgado. He usually requests for help with various OTAC events that they put on throughout the year. For example, right now we are putting together a Legislative Reception where we invite various senators and legislators to a networking event. The point of it is to share with these legislators what exactly occupational therapy is and how we improve people's lives since no one really knows what we do. So the specific tasks I have with this even is inviting and staying in contact with two senators trying to bring them to the event. And at the event I will just be a participant as well as assist in set up and takedown.
Being a student rep is beneficial in a variety of ways.  As mentioned earlier, is exposes you to the political side of medical professions. Various laws and bills highly affect medical professions so we need organizations like OTAC to help lobby to allow for our profession to stay alive.
Another huge benefit is that the school offers to reimburse me for any professional event admission fees for events that may be going on in the area.
Lastly being a student rep is great because it allows for me to network with people in the OT profession which ultimately jumpstarts my career.  We all know how invaluable networking can be.
What's the most rewarding thing about balancing work, study, and family?
It is sometimes difficult to balance all aspects of life when taking on so much.  I find that I am usually lacking in at least one area as I try to balance everything.  Reaping the benefits of your labor makes the struggle and hard work worth it.  You just need to have an optimistic mindset to be able to enjoy the process.
What are your favorite things to do outside of the classroom?
I really enjoy freestyle rock climbing/bouldering.  I am currently taking a break from it due to a recent near death experience.  Once I start it up again, I may go traditional rock climbing instead though.
When is your expected graduation date?
October 2017!
Why would you recommend someone to choose CBD?
The instructors and directors really care about you learning how to be proficient at your job as well as your well-being compared to other schools that just see you as a dollar amount.
Before you go, would you like to give a shout out to anyone?
I would love to give a shout-out to Cohort 4.  They have become my family this past year.  We have a diverse group of characters that mesh really well together.  I'm really grateful to be going through this course with them.