Joy Hernandez and Kevin Stewart: CBD College Pharmacy Tech Program
Meet the Instructors of Pharmacy Tech: Joy Hernandez and Kevin Stewart
The CBD Roundup chatted with Pharmacy Technician Program Director, Joy Hernandez, and Pharmacy Technician Instructor, Kevin Stewart, for an inside look at the Pharmacy Technician (PhT) Program here at CBD College. Commonly referred to as the "Dynamic Duo," they daily incite students with knowledge and passion for their careers. Read on for their exciting interview!
Have you always been a Pharmacy Technician?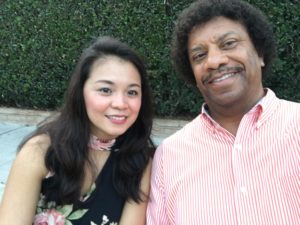 Kevin: I've been a CPT for a long time, but I've also been an administrator in the medical field. I was a logistic technician taking engineering at the time, and I pursued an opportunity that opened up based on my education and qualifications. Then I got into the Pharmacy and became a supervisor.
Joy: I've also been a CPT and trainer at Rite Aid for 14 years, and I also work currently as a nurse. I've wanted to be a Pharmacy Technician since I was young. Knowing the medications and how a drug works in the body interests me, particularly when it comes to curing diseases.
What led you to pursue instructing?
Kevin: I think instruction pursued me. I've always been teaching in some way since elementary school and all through college. I never thought I'd be a professional instructor because I was so shy, but when I was in the pharmacy I began training the class of which I was a member. From that point, my love grew for it because I loved seeing the individuals grow by attaining information. I get gratification from the ultimate result of students coming back and telling me their success stories and how I've changed their lives.
Joy: As a trainer, I've hired many PhTs and I've gone to many different states to teach the Rite Aid system, which inspired me to become an instructor. Now I can teach, not just the Rite Aid system, but how the medications work, classifications, side-effects. With my nursing background, I also know how to administer the medication, so those go hand– in– hand.
A student's decision to begin schooling for Pharmacy Tech impacts their life in the biggest way and allows them an opportunity for a career. We use different methodologies of teaching so help everyone. I know the way you learn is not the same way someone else may learn. You can't put an amount on the satisfaction you feel when a student comes back and says "Ms. Hernandez, I got the job!"
Who has been your greatest inspiration or mentor?
Kevin: My inspiration comes from the passion that I have to impact people's lives in a positive manner. That transfers over in my teaching methodologies.
Joy: My daughter is my greatest inspiration and why I work hard. My mentor is Lisa Shin. She's a Pharmacy Manager at Rite Aid. She taught me how to do things the right way and check every little thing because the smallest detail is critical to the patient.
How are you involved with Pharmacy Tech outside of CBD College?
Joy: I do volunteer, recently with the AIDS Foundation when they need help checking vital signs. Many of our students get hired from the AIDS Foundation. Sometimes students refer us to events held by the program, so that's a perk. I also teach review classes in my free time. I'm PTCB, so I take continuing education courses to teach the most up-to-date information to our students. PTCB gives us information of the discontinued medications so we can prepare our students for the Board Exam to become PTCB certified, which allows them to work in 50 different states plus Toronto, as well as a pay increase.
Kevin: I belong to a National Pharmacy Technician Association as well as PTCB. Sometimes they want us to author books or critique their information. Anytime I see tests that my students get online, if I see there's any incorrect information, I'll go back and have them correspond to the person to correct the error. Ultimately, the students who take the PTCB exam come back and say they gained a better understanding of our lectures and practices accompanying the book.
Do you have any advice for potential students interested in pursuing a career as a pharmacy technician or a healthcare career in general?
Joy: This is a fast-paced career, and it really takes your commitment to be here every day. You learn a wide range of things, not just medication, but Anatomy and Physiology, Mathematics, Physics, Compounding Pharmacy. It's a lot of information that we compress in a short period of time.
Kevin: What we always try to tell any potential student is that it's not like high school or a regular college where they can take a test and forget the information. You have to maintain everything that you learn in the program. throughout the curriculum. When you go out in the industry their expectation is that you know those drugs. No looking in the book or asking questions– because that's your job as a PhT. You're the first line of defense for the safety of the public. If you see a mistake, you're the first one to see it and bring it to the attention of the pharmacist.
To learn more about the Pharmacy Technician Program at CBD College, click here! You can also call 213-427-2200 to schedule a FREE tour.