Ambassador Students Support ALS
On Sunday, November 4th, 2018 the ALS Association hosted its 16th annual Walk to Defeat ALS. CBD College staff members, students and our Student Ambassador Program came out to support the fight for a cure. This organization is extra special to CBD College because it has done so much for one of our own. Dora Garcia is a beloved Admissions Representative who has been with CBD College for over 5 years and has dedicated herself to ending ALS for her Mother-in-Law, and everyone else affected by this disease.
Participation in the Walk to Defeat ALS has a direct impact on people living with ALS and their families at the local level. Through education, support groups, access to care and advocacy the ALS Association is working to defeat ALS and provide hope to people living with this disease, and their families.
Often referred to as Lou Gehrig's Disease, Amyotrophic Lateral Sclerosis (ALS) is a progressive, fatal neuromuscular disease that slowly robs the body of its ability to walk, speak, swallow and breathe. The life expectancy of an ALS patient is 2-5 years from the time of diagnosis. Every 90 minutes someone is diagnosed with ALS, and every 90 minutes another person will lose their battle against this disease.
From all of us at CBD College, thank you to our Student Ambassador Program, staff & faculty and to Team Carmelita for joining the fight to end ALS for good! We would also like to thank all of the donors who are doing everything they can to help end this horrible disease. To all the celebrities like Reese Witherspoon, Miley Cyrus and Courteney Cox who use their voices to speak and fight for those who cannot, we thank you as well. For more information on how you can donate, become a Walker, or build your own Team, go to www.alsa.org.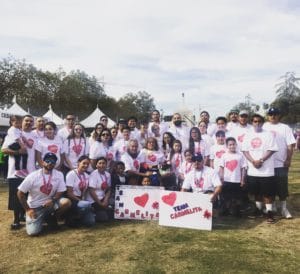 Source – www.alsa.org